Merchandise
Nice-Hart Online Store
Click here to view our online store
---
Caskets

Browse our catalog of finely produced Metal and Wooden caskets. All of our caskets are produced from Haven Line Industries, Schuylkill Haven, PA. We also have an 18 Casket Showroom at our Frackville location.

Vist this link to the Schuylkill Haven Family page, which lists all caskets produced by the company. The metal caskets are vary in price and are listed by gauge or thickness. The lower the gauge, the thicker, and thus better the casket. The Wooden Caskets are listed by the kind of wood used to produce them. The harder and more rare the wood, the more expensive the casket. All of our caskets are produced in the United States by Haven Line Industries, Located in Schuylkill Haven, PA. Some of our caskets have interchangeable panel. Please contact us for further information or prices.
---
Burial Vaults
Browse our selection of vaults and outer burial container. All of our vaults are produced locally from the Ringtown Wilburt Vault Company, Ringtown PA.
Why do you need a burial receptacle?
An outer burial containers are required by most all cemeteries to preserve the beauty and to help reduce the maintenance cost by supporting the weight of the ground and equipment that pass over the grave.
How to choose a burial receptacle:
An outer burial container is defined as a burial receptacle placed in the ground, in either a sectional, dome or box form, that helps support the weight of the earth to prevent the grave from collapsing. An concrete burial vault is defined as a lined and sealed concrete burial receptacle which performs all the functions of a grave liner, but in addition, it is constructed using lining and sealing materials to increase the overall tensile strength and to reduce or eliminate the intrusion of exterior elements.
---
Cremation Merchandise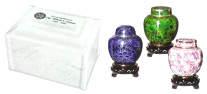 Our Showroom has a wide selection of urns and other merchandise, along with a catalog with many more options.
Our funeral home has a wide variety or Urns, keepsakes, jewelry and other items associated with cremation. Urn can come in wood, metal, marble or porceline. Most can be personalized with engraving or even pictures. Jewelry such as bracelets and necklaces has become popular in recent year and is available through our funeral home.
---
Other Merchandise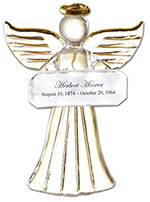 This section contains keepsakes and other items our funeral home offers.
The Nice-Hart Funeral Home will provide you with many options of merchandise that will pay tribute to your loved one. Below are just a few examples.
Tribute Angel Ornament
A great way to memorialize your loved one on the holidays.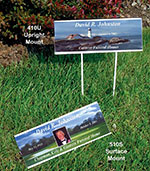 Temporary Grave Marker
Grave markers that can be made to be immediately placed on a grave. They can be personalized with pictures or sayings.

Flag Cases
Pay tribute to your Veteran with a wide variety of flag cases and patriotic merchandise.