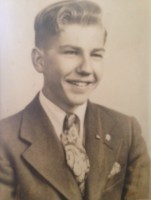 Walter "Wally" J. Lipinsky, 87, of 221 N. Mill St., St. Clair, died Sunday at Home surrounded by his family.
Born in Minersville, January 17, 1930, He was a son of the late Stephen and Mary (Gresko) Lipinsky.
He was a 1948 graduate of the former Cressona High School.
Wally worked as a Mechanic at Losch boiler and David Crystal; an agent for American General Insurance; Spreader and Cutter at Argo Mills; Custondain at St.Clair Area & North Votech Schools; most recently a school bus driver for Gawley and Felty Transportation.
He was a member of St. Clare of Assisi Roman Catholic Church, St. Clair and the former SS. Peter & Paul RCC.
Walter enjoyed dancing and listening to the Polkas, riding his bike around town, tending to his garden, vacationing and spending time with his family and his dog Chico.
He was preceded in death by 3 sisters Sophie Novak, Helen Miller, Stella Yarrish, brother Edward Lipinsky.
Surviving are his wife Dolores (Stempinski) Lipinsky with whom he would have celebrated his 64 anniversary on June 27th; 2 daughters, Sonia Egan and her husband Norman of St. Clair; Rachelle Kemfort and her husband Bruce of Seltzer; 2 brothers John Lipinsky; Constantine "Custy" Lipinsky and a sister Jean Mintz; grandchildren Norman Egan and his wife Elizabeth of Auburn, Shannon Shaffer and her husband Ken of Bellefonte; Selena Slackus and her husband Steve of Pine Grove; Stacy Silfies and her husband Tyler of Mount Joy: Alyssa Brennan and her husband Sean of Minersville; Great Grandchildren Nolan, Carson, Chaylee & Cora.
Mass of Christian Burial will be celebrated at 10:30 AM Thursday from St. Clare of Assisi Roman Catholic Church, 250 E. Hancock St. St. Clair with Msgr. William F. Glosser officiating. Friends may call from 6:00 – 8:00 PM Wednesday and 9:30 – 10:30 AM at the church. In lieu of flowers, contributions may be made to St. Clare of Assisi Memorial Fund at the above address. Burial will be in Schuylkill Memorial Park, Schuylkill Haven.
Bruce T. Hart Funeral Home, St. Clair, is in charge of arrangements. Condolences can be sent to http://www.brucethartfuneralhome.com