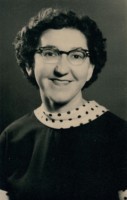 Marie G. Hand , 89, of St. Clair, a beloved wife, mother, grandmother, friend and neighbor entered heaven July 16, 2017.
Born in Lehighton, April 15, 1928, she was a daughter of the late Frank and Grace (Miller) Stehling.
A graduate of Lehighton Area High School, in her younger years she worked as a buyer and manager in the children's clothing department at Bright's Department Store. As her children grew older, she worked at Argo Mills, Willow Lake.
She was a devoted member of St. Clare of Assisi Roman Catholic Church, St. Clair.
Mrs. Hand, as she was known by many, loved and was loved by everyone in her life. She was known for her kindness and generosity towards everyone she met. She was dedicated to taking care of her family, especially her grandchildren.
She was preceded in death by her husband Thomas Hand, brother Francis Stehling; father in law William Hand wife Agnes; 2 sister in laws Mary Whitecavage, Kathleen Davis; brother in law James Hand.
Surviving are daughter Dorothy Frie and her husband Jack of St. Clair; 2 sons Patrick of St. Clair; Thomas Hand and his wife Sharon of Reading, grandchildren Maria Messner and her husband Michael, Lindsay Hand, Anthony Hand, Daniel Hand, Samantha Hand, Nicholas Hand;Great Grandaughter Addison Messner; Nieces and Nephews.
Mass of Christian Burial will be celebrated at 10:30 AM Thursday July 20 from St. Clare of Assisi Roman Catholic Church, 250 E. Hancock St. St. Clair with Msgr. William F. Glosser officiating. Friends may call from 8:30 AM – 10:30 AM Thursday at the church. Contributions may be made to St. Clare of Assisi Memorial Fund at the above address. Burial will be 9:30 AM Friday July 21st at Indiantown Gap National Cemetery, Annville, PA.
Bruce T. Hart Funeral Home, St. Clair, is in charge of arrangements. Condolences can be sent to http://www.brucethartfuneralhome.com