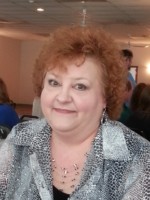 Maria Rounds, 56, of Norristown, formerly of Frackville died Tuesday Oct. 3, 2017 at the Hospital of the University of Pennsylvania, Philadelphia surrounded by her loving family.
Born in Pottsville, July 23, 1961, She was a daughter of the late Bernard and Florence (Shidisky) Rounds.
She was a 1979 graduate from Cardinal Brennan High School and earned Bachelor's Degree from Pennsylvania State University.
She was of the catholic faith.
Maria was Human Resource Director at ABC Supply Company, Telford.
Surviving are brother Larry Rounds of Frackville, 2 sisters, Kathy LaBella of Tamaqua;
Patricia Kurpell and her husband Ken of Frackville; 2 nieces, Nicole, and Rachael, nephew Larry, great nieces and nephews.
Memorial Service will be held at 11:00 AM Saturday Oct. 7, 2017 from Nice- Hart Funeral Home, Inc, 9 North Lehigh Avenue Frackville. The Rev. Robert Finlan will be officiating. . Friends may call from 9:00 AM – 11:00 AM Saturday at the Funeral Home. In lieu of flowers, contributions may be made to Leukemia & Lymphoma Society, Donor Services PO Box 4072, Pittsfield , MA 01202 or Frackville Girls Softball PO Box 363, Frackville, PA 17903. Burial will be private and at the convenience of the family.
Nice Hart Funeral Home Inc., Frackville, is in charge of arrangements. Online condolences can be sent to www.nicehartfuneralhome.com.