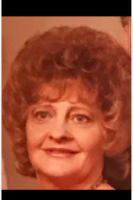 Dorothy Mervine , 82, of 228 North Broad Mt. Ave, Frackville, died SundayOct. 8, 2017 at Lehigh Valley Health Network – Schuylkill – E. Norwegian St., Pottsville.
Born in Pottsville, April 14, 1935, She was a daughter of the late Anthony and Stella (Savage) Waiksnoris.
Dorothy retired as a custodian at North Schuylkill School District .
She was preceded in death by her husband Clarence Mervine.
Surviving are son Leonard Mervine and his wife Linda of Frackville, a daughter Darleena Robertson and her husband Scott of Frackville, one grandson Lenny, 3 granddaughters Star, Misty and Jasmine, 2 Great Grandsons Carl and Evan, 3 Great Granddaughters Kylee, Sage and Aubrey.
Funeral Service will be held at 1:00 PM Thursday from the Nice- Hart Funeral Home, Inc, 9 North Leigh Avenue Frackville. Friends may call from 11:00 AM – 1:00 PM at the Funeral Home. In lieu of flowers, contributions may be made to the American Heart Association , PO Box 15120 Chicago, IL 60693. Burial will be in private and at the convenience of the family.
Nice Hart Funeral Home Inc., Frackville, is in charge of arrangements. Online condolences can be sent to www.nicehartfuneralhome.com.